Free Software programmer
rusty@rustcorp.com.au

Subscribe
Subscribe to a syndicated feed of my weblog, brought to you by the wonders of RSS.
This blog existed before my current employment, and obviously reflects my own opinions and not theirs.

This work is licensed under a Creative Commons Attribution 2.1 Australia License.

Categories of this blog:
IP issues
Technical issues
Personal issues
Restaurants


Older issues:
All 2008 posts
All 2007 posts
All 2006 posts
All 2005 posts
All 2004 posts
Older posts

Fri, 30 Jun 2006
The music and movie industry keep trying to take away our rights to enjoy the music and movies we bought. That's stealing, and doing it through legislative means makes it worse, not better.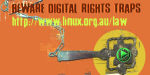 iownmydvds.org, iownmymusic.org. Spread the word...
[/IP] permanent link