Chris's Random Ramblings
Fri, 02 Sep 2005 - Loons
Was riding to work this morning and was just before Commonwealth avenue bridge going up Vernon circle when I got hit by something in the back. Most likely from one of the guys who passed slightly later yelling at me out the windows of their vehicle. I've been riding to work for a few years now and its the first time I've ever had something even thrown at me while riding. Ben has been riding for quite a bit longer and has a few interesting stories.
Kind of stung for a while, but doesn't seem to be bruised. I did manage to get the licence plate number so I rang the police and reported it. Will have to wait and see if anything comes of it. Rode into work pretty fast so perhaps the extra adrenaline of having stuff thrown at you can help.
Tue, 08 Feb 2005 - Australian War Memorial Bike Rack
Whilst there is a lot of car parking at the Australian War Memorial, the bike rack is rather hard to find (probably only meant for employees), and it also tends to fill up. One enterprising individual managed to find something fairly solid to lock his bike to.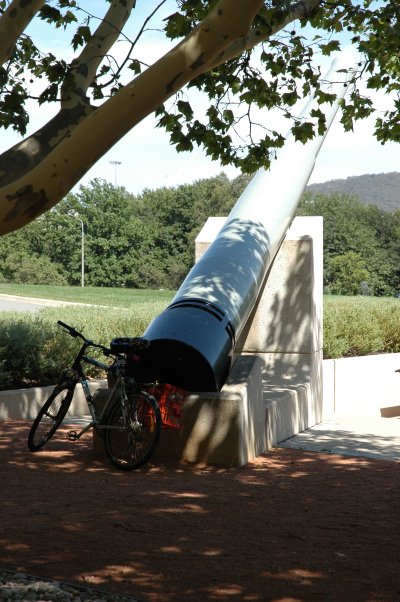 Not only is it secured to something that is not going to move without the aid of a crane, but I hear you also get a tour of some of the private areas of the museum if you lock your bike up there.
Thu, 30 Sep 2004 - New route to work
Ben pointed out that there is now a cycle lane all along Northbourne avenue up to Commonwealth bridge, so I thought I'd give it a go this morning as it should be a slightly shorter route to work rather than use Kings Avenue bridge. It ended up being slightly quicker, though I'm still undecided if its better.
On the upside, its about 800m shorter (over a 7km journey), and its easier to go faster along Northbourne avenue as the road is in pretty good condition. Also the cars all seem to respect the cycle lane (there was one truck which didn't really fit into a lane). On the downside I stopped at a few traffic lights, and the cycle lane is so narrow you can't really overtake another slower cyclist (never thought that this would be a problem for me). The biggest problem is that pollution is significantly worse along Northbourne avenue. The exhaust fumes from the cars and trucks were quite bad, and it was a couple of hours after peak hour.