Chris's Random Ramblings
Wed, 26 Oct 2005 - Rent a DVR (in another country)
Given that we either miss out on so many sci-fi shows here in Australia or are months or years behind, for a long time I've thought it would be really cool to be able to have my own Tivo in the US and download them to watch them in Australia. It looks like someone has started a service where you can get other people to record shows for you and then upload them to you.
I can't see how this would be legal in Australia, but the FAQ on the site quotes FOX
8. Can I get tapes of FOX Network Primetime Shows sent to me?

ANSWER: The FOX Network does not provide nor sell videos of any of shows, specials or movies that air on the Network. Our recommendation is to ask co-workers, friends, family and neighbors for anyone who may have taped off-the-air the show you are looking for.
Interestingly using this service, you can't ask for a show that has already aired, only request someone to record a program for you that will show in the future.
Mon, 26 Sep 2005 - The Taken
Kelly made her public singing debut with The Taken at the Pot Belly on Friday night. Hugh took some photos which are up here. They all did really well and I'm really looking forward to their next performance!
Mon, 26 Sep 2005 - Petrol prices not high enough
Went for a walk up to the top of Mount Coree which is on the western border of ACT/NSW. All the pine trees were destroyed in the fires a couple of years ago so part of the trail is like walking through a moonscape. The higher areas which were native bush are regenerating quite nicely though.
On the way up I was passed by numerous 4WD vehicles who seemed to be out wandering the firetrails for fun (including an L-plater). The weather was surprisingly very nice at the top, and while I had lunch there were no other people, but quite a few birds circling, chasing each other.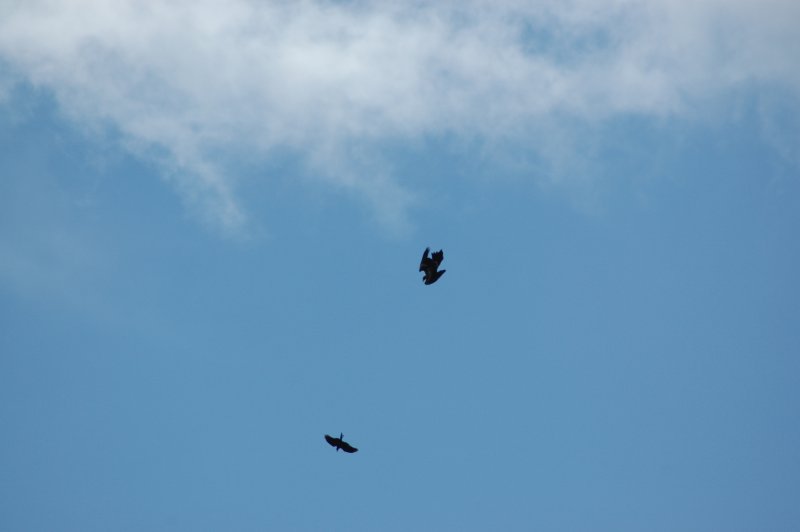 Just as I was getting ready to leave the place turned into a bit of 4WD parking lot though and all the wildlife disappeared. I wonder if those people know what they're missing out on when they travel in big noisy vehicles. Certainly the higher petrol prices don't seem to have discouraged many people from driving around all day!